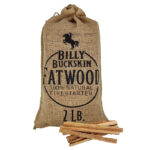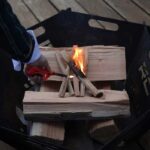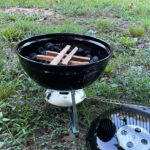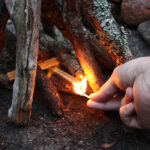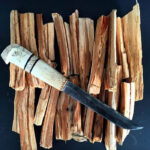 Billy Buckskin Fatwood Fire Starter Sticks – 2 Pound Burlap Bag
Billy Buckskin Fatwood is safe, quick and easy to use – just 2 sticks are needed to start a fire! Fatwood is perfect for us anywhere. Use it for starting fires in an indoor fireplace, in fire pits while, wood and pellet stoves, charcoal chimneys and so much more!
When you purchase this product, you will receive 2 lb of fatwood in a stylish burlap bag. Every stick is unique in appearance but each is approximately 8 inches long and 3/4 to 1 inch thick. When lighting a fire, you only require 2-3 sticks at a time.
Rich in resin and chemical free
Fatwood is made from some of the most resin rich pine trees in the world. This resin is what allows fatwood to burn so incredibly well! When burning, fatwood produces a black smoke –  this is due to the resin content and is not harmful. Our fatwood has no added manmade chemicals.
Eco-friendly and all natural
Billy Buckskin fatwood is a 100% all natural and eco-friendly wood product harvested from the stumps of a species of non-endangered dead pine trees in Mexico. We ensure that absolutely no live trees are harmed in the making of our line of fatwood.
Waterproof! Burns when wet
Because of the incredibly high resin content in fatwood, it is waterproof and can burn even when it is wet! This is perfect for use in any conditions. It works just as well starting a campfire surrounded by snow or starting a BBQ in the heat of summer.
Simply place 2-3 sticks of fatwood in the center of your kindling, light one of the sticks and watch the fire start right before your eyes! Sometimes you will need to hold a match on one spot of fatwood for a couple of seconds to get the resin to flow and then light. Each piece is different so some may take longer than others.
For use anywhere and everywhere! Ideal to take along on camping trips, for starting fires in the yard, lighting up charcoal chimneys and even making fires in indoor fireplaces. Fatwood ignites quickly and continues to burn with a hot flame. It works perfectly with hardwoods such as oak.
Explore more buying options